I know this is a little late, but I thought I'd still post, considering I haven't shown off my little man in quite sometime, and well, that's just tragic. We had a really great Labor Day weekend complete with lots of swimming and laying out in the sun, and lots of BBQing. It truly was a last hurrah for summer. I'm mourning the loss, but I'm looking forward to gorgeous fall.
My E is getting so big so fast. I am adoring every minute. On Sunday we took a trip to the canyon with some friends, and all he wanted to do was pick up rocks, throw rocks, or eat rocks. He is truly a boy. (I'm loving that we finally get to use the vintage denim jacket thrift store find I got for him at the beginning of the summer.)
And now a scene that is probably only interesting to a mama. On Monday we had an extended family BBQ, and my E was obsessed with this rather heavy croquet ball. He loves balls of any kind. I kept trying to convince him that this ball was just too heavy for him to carry around. Being the independent spirit he is, he insisted on lugging that thing around while I anxiously followed him around crossing my fingers that he wouldn't drop it on his toes.
A picture with G. Grandma.
A very reluctant picture with mom.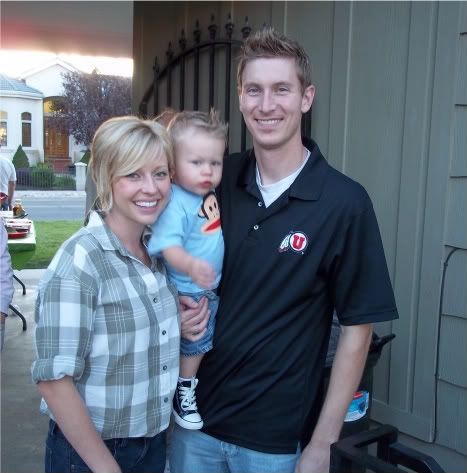 Another reluctant picture with the family. Regardless, we had a great weekend!