This weekend I helped my sister in law style my niece's 3rd birthday party. A lot of the party was her vision, I just helped her pull it together and make some of the crafts. I thought I would share, as there were some simple and reasonably priced ideas.
She wanted an "art" themed party, but she needed it to be simple, not require too much time, and have a girly feel to it. One of the things I personally have to do to begin planning a party table is come up with a color scheme. She decided to base the party off of some striped scrapbook paper she found.
I made a simple paper chain to coordinate. I advised her to build some type of cupcake tower as a centerpiece, and I constructed the paper mache 3 to top the tower. My sister in law made the cute pencil vases and I thought that simple daisies would add a nice feminine touch.
This was E's first birthday party that he could actually (sort of) participate in. I was pretty impressed by his ability to color.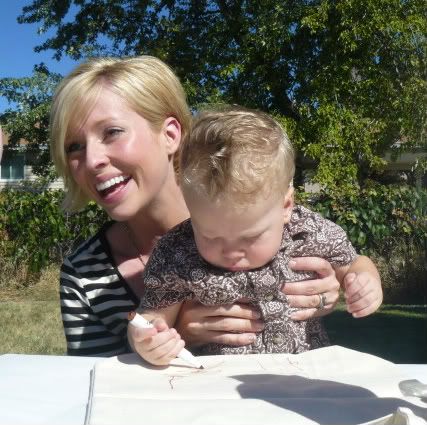 E's finished tote. So proud.
and here's the little rosette headband that E gave his cousin Paisley for her birthday. (with a little help from his mama.) Stay tuned later this week for another awesome thrift find I gave her.
On Sunday we went to a neighborhood barbecue. I love to be in sweats on Sunday. Have you ever wanted to just wear your sweats to a gathering that you should really probably wear something cute to? I was feeling that way. I've been seeing a lot of "dressed up sweats" lately, and thought I'd give it a whirl last minute so I could stay comfortable. Here's what I came up with.
Please excuse the dirty mirror. I just tied a vintage mustard yellow ribbon over my layered sweatshirt look.
Added these modified loafer style shoes that I got for $5 at the local auction retailer. They totally remind me of some church shoes my dad owns.
What do you think? I'm thinking I might have to rock this look more often!